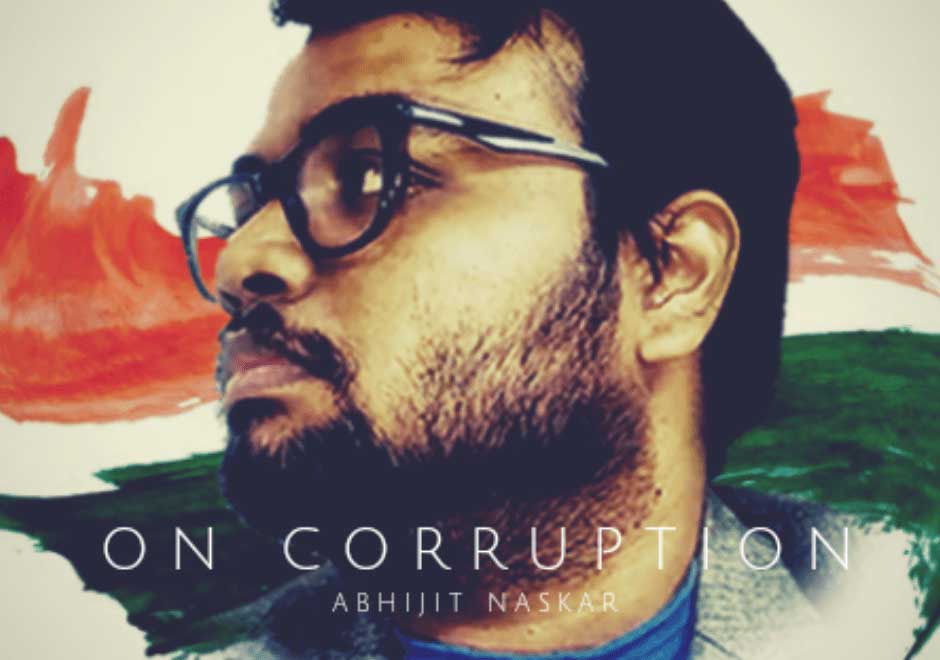 CORRUPTION IS A BEAUTIFUL WORD. YES, YOU HEARD ME RIGHT. IT'S A BEAUTIFUL WORD, BECAUSE IT'S TRUTHFUL, UNLIKE ALL THE HYPOCRITICAL PRETENSES OF THE GENERAL PUBLIC.
However, the public, the dear old public, finds it very much comfortable on a cold winter evening, to sit among friends and discuss what's best for their society over a cup of coffee, as if they have any idea of what's really good for their society.
Corruption runs in the veins of the biological creatures called humans, because of which, we have survived for so long while many of our fellow species got extinct. You are corrupt, and that's what ensures the survival of yourself and the survival of your immediate family, if the necessity rises for you to choose between the life of your own family and that of your neighbor. You are a corrupt creature, yet you find it comfortable and soothing to think of another person, who in most cases of your psychological delusions, happens to be a politician or someone in the administration of the government, as corrupt.
You feel very comfortable, don't you, to see someone else as corrupt! You never even for a second think of paying your attention within – to look inside your own self.
What about you my friend! What are you?
You say, most politicians are corrupt – you say, most policemen are corrupt – but never even for a second you think, what exactly you would do, if you were in their position. So, allow me to put you in their position through a hypothetical situation which I first mentioned in my book "Prescription: Treating India's Soul".
"Say, a teenage son of a minister, hits and kills a common man on the street with his shining new Mercedes. Now, what do you think his father would do, when he learns about his son's glorious deed? He would put all his authoritative power to save his son, from being punished by the court system.
Once the father succeeds in saving his son, what do you think the common people of the nation and the media would speak about? They would naturally start having burning discussions about how the politicians abuse their power for serving personal interests.
Now, for the sake of the experiment, let's turn the situation around. Say, a few years later, one of those common people, who was so responsibly upset about the disgraceful abuse of power, becomes a politician himself. Now, say he buys his son a beautiful Ferrari, and the son hits a pedestrian just like the last time.
Now what do you think, this father would do?
He would do the exact same thing that the last politician did. He would do everything in his capacity to save his son. And just for your information, it is not politics.
In all cases, any mentally lucid father or mother would do the same thing. The only possible way to avoid such disastrous circumstances is to give the child a proper healthy upbringing, with a balanced level of love, pampering, and discipline.
Such parental behavior towards the children, has nothing to with politics. It is plain human psychology that has evolved not over a few hundred years. Rather such human psychology has evolved through millions of years."
Humans are born selfish – it is a biological fact. All biological creatures on planet earth are selfish. Biology without selfishness is nothing but fiction. Like it or not, I am selfish, so are you, and so is every single person on this planet. The survival of a species is predicated upon the very element of selfishness.
And, in the modern society of human civilization the apparently stigmatized term "corruption", is born from the biological seeds of selfishness. Corruption is deemed by the snobbish Indians as the most disgraceful element of modern Indian society. But here is the ridiculous hypocrisy of the matter.
WHEN A CIVIL SERVANT OR POLITICIAN ACTS OUT OF SELF-INTEREST, IT'S CALLED CORRUPTION, BUT WHEN A CITIZEN DOES IT, IT'S CALLED PUBLIC INTEREST.
The fact is, a corrupt nation is born not from corrupt politicians, but from corrupt citizens. The citizens of India, and in fact, of many developing countries, live with corruption flowing in their veins, and they teach their own kids that same corruption without actually even being aware of it.
You teach your children to compete with their friends at school – you program them to see their peers as enemies, and then you snobbishly and rather stupidly expect them to be the glorious future of a corruption-free nation.
What a shame!
Corruption begins at home and it can end at home. So, if you really, genuinely care for your country – for the people in your country – for the progress of your country – then destroy your hypocrisy and see the reality as it is, as much lies in your power. You are selfish – I know that, you know that – but that's not the problem. The problem is that, alongside being a selfish creature, you also have the brain capacity to step beyond that selfishness, and yet you simply don't, for whatever snobbish or childish reason.
Keep in mind my friend, if you want to build a corruption free society then you must be aware of your inner corruption. Self-interest is healthy to a certain extent, but beyond that it only brings conflicts and primitiveness in a young and developing nation like India. So, be aware of your self-interests, and act accordingly. And remember,
your actions matter – they can determine what happens to your nation.
A corruption-free nation can only manifest through the actions of a corruption-free citizen.
DISCLAIMER:
THE VIEWS AND OPINIONS EXPRESSED IN THIS ARTICLE ARE THOSE OF THE AUTHOR AND DO NOT REFLECT THE VIEWS OF SPEAKIN, ITS MANAGEMENT OR AFFILIATES. SPEAKIN MAKES NO REPRESENTATION AS TO ACCURACY, COMPLETENESS, CORRECTNESS, SUITABILITY OR VALIDITY OF ANY INFORMATION ON THIS ARTICLE AND WILL NOT BE LIABLE FOR ANY ERRORS, OMISSIONS OR DELAYS IN THIS INFORMATION OR DAMAGES ARISING FROM ITS DISPLAY OR USE.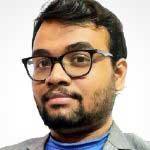 Abhijit Naskar is one of the world's celebrated Neuroscientists, an International Bestselling Author of many books and an untiring advocate of mental wellness and global harmony. He has revealed to the world with his contributions in Science how the basic awareness of the brain can completely redefine our perception of life and make our daily life much more cheerful.